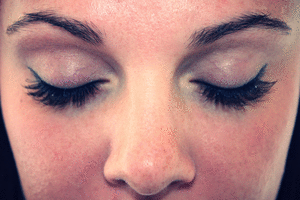 Can you guess what this post is about? Just take a close look... does anything seem bigger? Longer, perhaps?
That's right folks, last night I got eyelash extensions, and I'm officially hooked! I've always lusted for those butterfly long lashes, and although falsies are always fun for a night out, they're not quite realistic for everyday wear. I've considered trying Latisse, but the constant warnings of all the side effects freaked me out a little.. are longer lashes worth giving up my baby greens for? Probably not.
That's when I decided to try extensions. I've been hearing more and more about them lately, and after reading a few success stories on several blogs, I decided to give it ago. Extensions are a little pricy, but I figure that feeling fabulous on my birthday is worth the investment. The whole procedure took about an hour and a half... "
just take a little nap, and when you wake up, you'll have gorgeous lashes
", is what the lady at the salon told me. What a concept, huh? The experience was totally painless, and she was right, I was able to snooze for a few minutes, and when she was all finished I looked in the mirror and was very pleased with what I saw.
The only downside? I've been fluttering my eyelashes waaaaayy too much today... hahaha! Of course everyone is different, and if you decide to try out lash extensions, you should probably check with your doctor to make sure you're not allergic to the type of glue that they use. Once you have the go-ahead however, dive right in without fear! Your eyelashes
will not
fall out, (
ok, don't quote me on this
), and you will feel fa-bu-lous!
Questions? Concerns? Feel free to email me, and I'd be happy to give you more details about my experience.